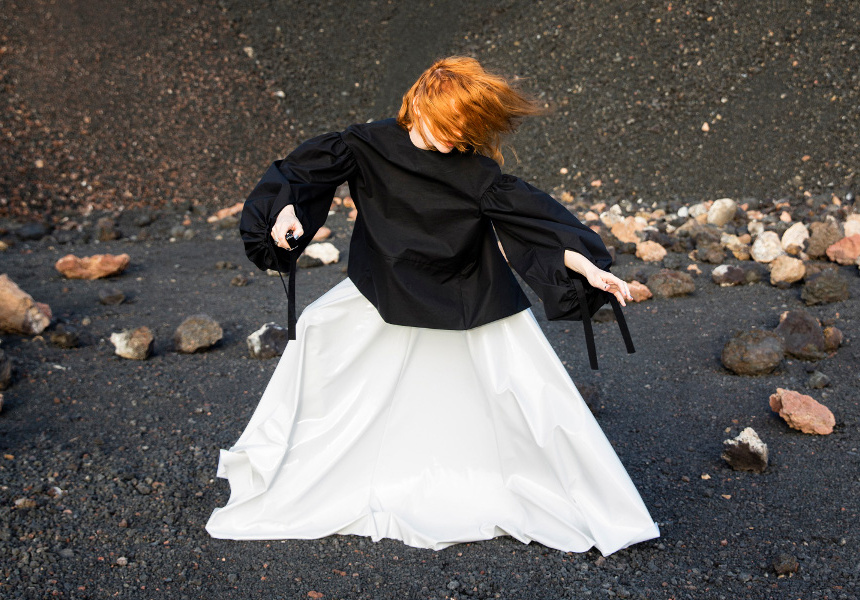 Even if I paid very little for it, I think I should be using my little corner of the web more often. Otherwise, what a waste of space. So, as a little public writing —and venting— exercise, I'll turn Fridays into a weekly design recap of my life as an independent designer, to share my thoughts on five different points. Maybe it'll help me stay focused on what really matters. Maybe it'll just be rants.
[divider line_type="No Line" custom_height="20″][text-with-icon icon_type="font_icon" icon="icon-cogs" color="Accent-Color"]
Things I'm working on
Radiographista is doing better than expected; it just reached over 2,000 followers on Tumblr, and considering most content is image-based and I've never paid a cent to advertise it, that's good news. I'm currently planning to expand the brand to curate actual design products on a weekly basis plus a design newsletter and yes, getting people to give me their email addresses and sign up is HARD, but even if only one person signs up I will begin sending it.
Rediseño México is all but abandoned; I have several ideas at work but I'm particularly interested in redesigning the Mexican passport, which I considered when I started the project. Recently, though, the idea was brought back to life after seeing Deezen's Brexit Passport Contest which has some very quirky solutions. I've begun sketching & wireframing.
I'm not the most positive person but I've been writing down all the sad & depressing phrases I've read, heard or thought of in the last few days and I'm really considering on monetizing them, as in having them printed on tees, posters, mugs and so on.
[/text-with-icon][text-with-icon icon_type="font_icon" icon="icon-heart" color="Accent-Color"]
Things I've enjoyed
So, Ghost In The Shell. Yes, I wasn't comfortable with the whitewashing —and so is the box office. YES, the dialogues are mortifyingly cheesy at times, but hey, that music and those visuals —superb colour-grading included— had me from the get-go, specially with the AR design for roads and signage. I would love to see a documentary on that. Hurry up, Hololens.
I can't bring myself to finish Yoshi's Woolly World 3DS because the thing is so well done and impossibly cute, I don't want it to be over.
The Pilot V Ball Grip pen is the best three euros I've spent in a while.
Kurtgesagt's latest video on GMOs is impeccably put and should help settle the debate.
[/text-with-icon][text-with-icon icon_type="font_icon" icon="icon-remove" color="Accent-Color"]
Things I'm struggling with
Getting into the Etsy affiliate programme. It's managed by a third party and ugh, it's filled with legalese that, to make it worse, the system insists on displaying it to me in French based on my location. All I want is to link to your products, you guys, and get paid for it.
Staying away from bread, but resistance is futile because #France.
via GIPHY[/text-with-icon][text-with-icon icon_type="font_icon" icon="icon-book" color="Accent-Color"]
Things I've learned
The use of parallax in the process of measuring the distance between stars and most importantly the way Newton figured out the whole thing with nothing more than books. Neil DeGrasse Tyson's Welcome to the Universe is a fantastic follow-up read after re-watching Cosmos.
Also, the French elections are coming and I thought after last year I've seen it all, Le Pen and Fillon come along and they're just shameless with their money-related scandals and double standards. The latest debate would have been boring if it were not for this guy.
Things I'm listening to
I recently gave podcasts a shot and it's been incredibly rewarding throughout my long biking sessions —kids, don't do as I— but one that I find particularly charming is Something True by Idle Thumbs; Virginia Woolf's anecdote makes her a top prankster. I will of course be recommending several more.
Goldfrapp's Silver Eye is a dark jewel; it brings back memories of Supernatural and their signature synths are all there, albeit with no sweeping strings and diction still isn't Alison's forte but there's a lot to love in there even if it's not joyful.
Also, this is important
Comedians are doing a better job of covering Trump than serious news networks, because satire has a really low tolerance for bullshit. pic.twitter.com/MdW3aZtL7P

— Carlos Maza (@gaywonk) April 3, 2017
See you next week.[/text-with-icon]
Tags:
French Election
Ghost in the Shell
Goldfrapp
Kurtgesagt
passport
podcast
side hustle
Something True