Frost, light snow, big coats and numb ears. This season is like skinny dipping in mint syrup, while you drown in delicious carbs. Instead of a chocolate advent calendar, I've opted for a lush tea version while I try my best to avoid the delicious IKEA ginger thins. The job has been all the more absorbing but I've spent my off days doing design stuff and I have something to show for it this time.
Things I'm working on
I did manage to work for a while on the video game labels. I didn't come up with a new scale since Mexico already has a system to categorise film and TV content so it'd be easier to keep things familiar. The colour scheme is technically the same except for the fact that I opted for a more neon approach.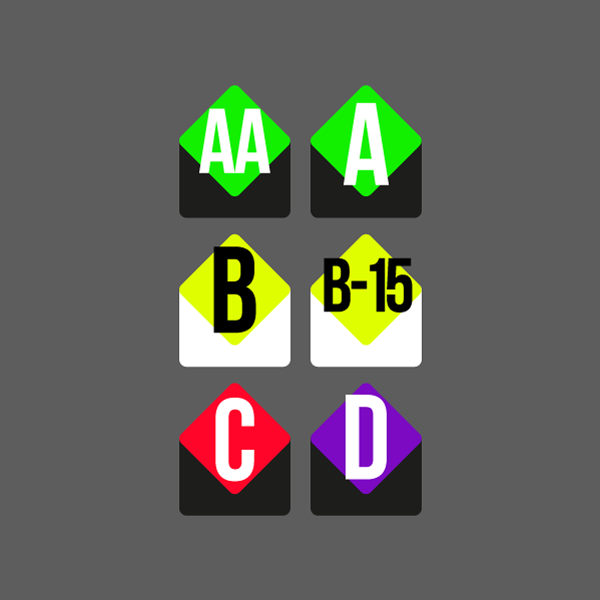 In terms of typography, I wanted something bold and after months of using it for Sad Words Journal, I chose Bebas Neue for the ratings' main letters. The black slab would be used to contain additional information, such as the institution's website.
Things I've enjoyed
I won't elaborate as to why Pixar's Coco is the best thing to be churned out of Emeryville, California since Finding Nemo, as the specialised press can do that, but I can't stress how you must go watch it. Visually it is absolutely stunning and the aesthetics are a genuine reflection of the beauty of my country, although mariachi music in English isn't my cup of tea.
Ran into this a week or so ago and forgot to talk about it but Black Jeopardy must be my favourite SNL sketch ever.
Things I'm struggling with
I seem unable to find a competent therapist in Strasbourg that doesn't reprimand me for calling in the middle of a session. Online therapy could work but French social security wouldn't cover it.
Things I've learnt
Maybe the low-sodium approach isn't what people say it is?
Things I'm listening to
This is self-explanatory and there's a history of dramatically thin hair in my family but this episode of Science Vs is refreshing and reassuring, in a way.